Intelligent warehouse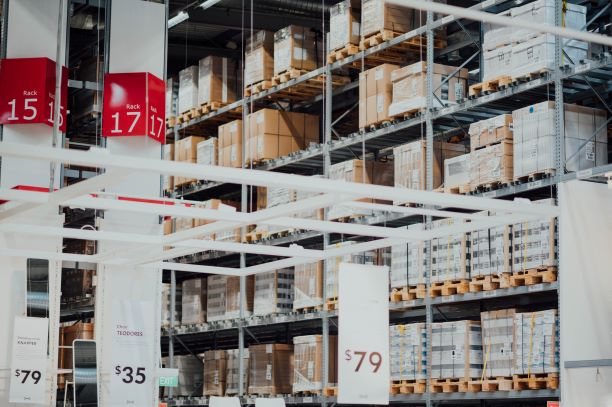 Many companies selling goods demand for warehousing capacities - for ready products, spare parts, and components. These storing capacities directly affect financial indicators of the company. Unjustifiably long storage time is ineffective and results in unnecessary expenses.
No wonder, companies with large storage facilities and lots of logistics operations are trying to minimize stock turnover period. A warehouse is a place for the temporary storage of goods (stock) that participate in a supply chain. The faster they turn over, the more effective is business. To manage warehouses, there is specific software developed, so-called warehouse management systems (WMS). Their purpose is to structurize warehouse operations in separate tasks and make their fulfillment optimal and effective.
Smart warehouse management
Warehouse Management System (WMS) is designed to optimize and streamline the entire lifecycle of stored goods - from the moment of a stock incoming the warehouse to its transfer along the supply chain. Using a WMS, the warehouse manager can effectively manage all business processes, track goods movements, estimate the demand for employees (headcount) and logistics resources to perform operations and minimize costs of warehouse operations. In addition to daily warehouse operations, the WMS allows quickly and effectively fulfill regular stock inventory and synchronize these data with other accounting systems.
The Trood platform has a dedicated module, Intelligent Warehouse, with a purpose to manage the stock receipt and its shipment, as well as internal warehouse movements. This includes the transfer of electronic requests for receipt or shipment of goods. In the moment of goods receipt, they are registered with available tracking tools (often, with barcodes). The registration is performed by lots, manufacturers, expiration dates (if applicable). Our module provides integration with marking and tracking equipment enabling you to register real-time information and handle it according to business requirements.
The Intelligent Warehouse module allows the addressable storage of goods in warehouse facilities (in pallets, packs. boxes, and individually). This enables planning storage facilities and optimizes the usage of storage space. Moreover, it allows managing warehouse tasks for WMS personnel, approving correct storage places for goods according to storage requirements. This module helps build a warehouse map and make optimal routes for shipment vehicles.
Storage of goods
Automatic receipt of goods allows us to get the full inventory of stored goods facilitating regular inventory checks for the warehouse without considerable time and costs, which is especially critical for warehouses with fast stock turnover (for example, in retail and wholesale warehousing). Goods with critical expiration dates, storage requirements, and delivery dates need to track these parameters and organize the just-in-time transfer of goods between warehouses and/or points of sale.
Our module allows you to perform accounting in various terms during warehouse operation. The information includes the supplier's details, the status of equipment and materials, and their location.
Shipment of goods
As goods are being stored at the warehouse, they are required to be shipped from the warehouse to point of sales according to specific requests. In this case, the warehouse receives shipment requests including addressable storage of goods and its logistics requirements. Large quantities of goods for shipment and bigger shipment requests, a customer can choose the preferable mode of goods delivery (LIFO/FIFO) to avoid expiration deadlines and provide improved stock turnover.
Organization and selection of goods at the warehouse can be tracked in real-time. In case of any difficulties, you can take timely measures and change order parameters, as well as perform delayed delivery according to shipment parameters.
In the case of big volumes of storage, the group of goods can consolidate based on similar customers or similar delivery routes, which helps minimize costs of logistics and optimize the whole warehouse operation. Moreover, it is possible to control goods reserves with order approval, and perform delayed goods delivery according to order requirements.
Reporting
Our platform allows you to automatically create all required shipment documents and register the fact of shipment in the system.
The Intelligent Warehouse module allows you to generate required reports for warehouse operations analysis, account for performed operations and create the budget, assess the work of warehouse personnel. Warehouse operations results are used to create a summary and detailed reports, which are customized for specific customer business requirements. The system includes various analytical reports which provide a full picture of warehouse operations analysis, stock turnover, personnel efficiency, etc.
The Trood experts or customer representatives can set up this module taking into consideration the specific business requirements. The module is easily customizable and scalable as any other module of the Trood platform. Its main purpose is to satisfy the customer's requirements to build effective business processes in their company.
Dear friend! Since you are here and still reading, please know that we perceive each TCP visitor (let alone member) very personally. We don't abuse you with popups encouraging to sign up, but if you leave your email here:
you will cause our eternal gratitude and tears of happiness. You will see how responsibly we approach our mailing policy, and we promise you won't get any odd word from us! (unless something goes wrong with our AI called Boris) All our emails are gluten- and dairy-free!
Do you like it? Share with your colleagues!
Welcome to TCP (Trood Community Platform). Here we are building a community of like-minded people who share passion and knowledge about cutting-edge software development technologies. If you're looking for advice or willing to share your experience in IT, we'd love to hear from you in our community discussions. If you are a product creator, business owner, or developer who wants to be in touch with industry experts, here in TCP you are in a good company of opinion leaders and other enthusiasts. There is only one little thing left: we invite you to register and get access to all materials and a personalized news feed! Please,sign upand stay at the same wave with us!